14 Nov 2015
Lift your confidence with Body Lift Surgeries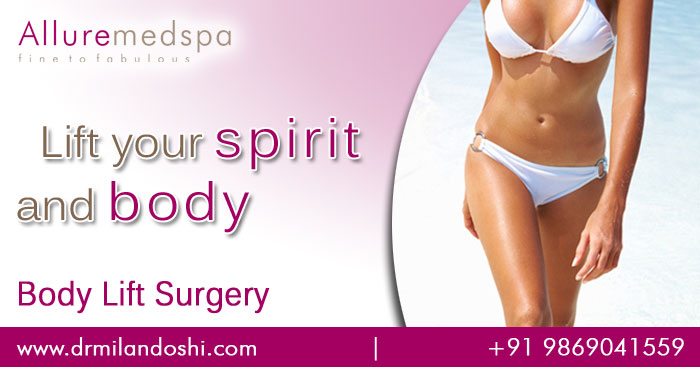 Well, who does not dream of a tighter, firmer body. Every time you switch on the television and see those actors dancing on the screen, you start envying the fact that they have such a flawless body with not even an inch of fat visible. You see yourself then and start lamenting, why God made you like this? Why on earth you are not blessed with such good genes?  Trust us God has nothing to do with making you beautiful. As it is said "Beauty is not a blessing but a choice that has to be made by you."
A little bit of self indulgence and a little bit of intelligence will help you to attain those enviable curves. Well at Allure Medspa undergo the procedures of Body Lift Surgeries. It is a major reconstructive surgery that is performed after a massive weight loss.
So how do your surgeon undertake the surgery?
Well, first thing first. It is very essential to consult a surgeon (mind it, well-known surgeon), who has years of experience in the field of body lift surgeries, to undertake the surgery. You will never want your surgery to go wrong. Therefore, we suggest you to visit Allure Medspa and meet Dr. Milan Doshi. Trust us, you will like meeting him. He will be more of a friend to you, unlike other surgeon who means only business. His humble nature and soft attitude will give you confidence to embark on with the surgery.
After evaluating your body type, the surgeon will make markings on your body parts you need surgery in. Based on surgeon's recommendation, the patient will receive either intravenous sedation or general anesthesia. After making incisions in your body parts, your surgeon will remove the excess fat and skin. The method also uses the combination of liposuction to suck away the excess fat. After the surgery is done, sutures are made. After the surgery, your surgeon will suggest you to wear a compression garment. The advantage of the surgery is that there will be no scars visible. The scars will fade away in a week's time. Now, you will get a more firm and sculpted body that you would love to show off.
There will hardly be any complication after the surgery, however, you will be advised to follow doctors advise and undergo light excersises and take proper meals to maintain the structure of the body throughout your life.
A little discipline will give you a body that will make everyone turn green of envy.