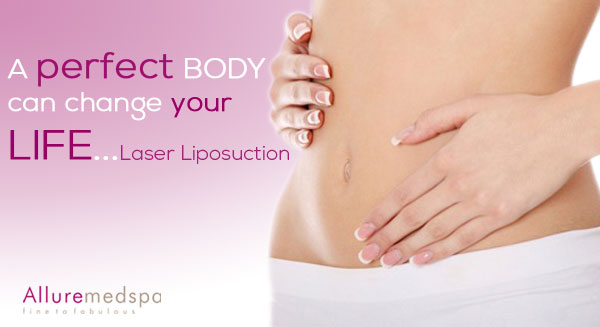 "Lose weight and get a brand new figure with Laser Liposuction"
A quick guide to laser liposuction for all those who are looking for body contouring and are confused as t what would be ideal for them. Also described below is a good candidate for such treatment. Glace through for basic information on laser liposuction and find out if it's for you.
Here are some quick facts that may change the way you look at Laser Liposuction!
If you want an FDA approved technique
The FDA has approved the use of Laser Liposuction as a method for removing fat from the body.
If you want a technique that's less invasive
Because the technique uses highly targeted and powerful laser technology, the use of Laser Lipo means a less invasive surgery procedure for the patient. This has a number of benefits, namely, less potential for complications and risks arising during surgery, and afterwards, a speedier, easier recovery experience. Another reason this technique is considered less invasive is that, unless a large amount of fat is being treated, the doctors do not have to suction the fat out of the body. The body itself is able to deal with the liquefy fat. Don't worry though – it won't be re-absorbed or redistributed elsewhere in the body! Instead, the body will rid of it naturally through the liver as it would other waste products. The lack of having to deal with this suction aspect of this surgery is one more factor that makes it less invasive and less prone to complications and risks.
If you want to spur the growth of new collagen in your body
One amazing side effect of Laser Lipo is that it actually initiates growth of collagen in the body. Collagen is an important factor in strengthening and tightening the skin. A natural side effect of the laser energy pushed into the body during the procedure spurs the body to produce additional collagen protein.
If you want a better technique that's also less expensive
Amazingly, this cutting edge technique is also less expensive than the traditional forms of liposuction before it. Not always does Laser Liposuction cost less, but, often it will!
If you want a technique that can remove fat from stubborn areas like the back and neck
One of the challenges of traditional liposuction is removing fat in parts of the body where the fat is described as "fibrous". This type of fat resides in the back and neck and also in males in the breast area. The lasers used in Laser Lipo are specifically helpful in destroying this type of fibrous fat. This is what makes it the ideal procedure for removing fat in these areas of the body that other approaches have a harder time targeting.
If you qualify the following criteria for Laser Liposuction
• Healthy
• Not more than 11-12 kg overweight
• Exercises regularly
• Have excess stubborn fat in localized regions that is not going away despite exercise and food control
• Determined to get rid of the obstinate fat
• Have good skin elasticity
• Have realistic expectations about the outcome
Allure Medspa is a reputed treatment center for cosmetic surgery, dermatology, and dentistry and is known to use the latest technological combinations for laser liposuction in Mumbai. Walk-in for a visit today or Call +91 98690 41559 for queries or consultation appointment.
Book an appointment: https://www.drmilandoshi.com/contact-us/