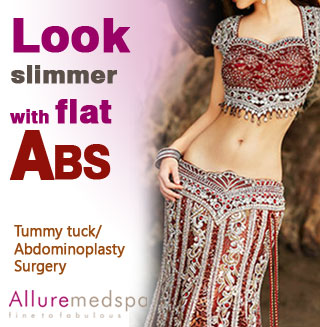 What is tummy tuck/abdominoplasty?
Tummy Tuck is also known as an Abdominoplasty procedure. This is an operation normally performed on people who have had babies or lost weight, which aims to remove the excess skin from the lower part of the abdomen and is often combined with liposuction.
What is a tummy tuck surgery?
Tummy Tuck Surgery removes excess skin and fatty tissue from the lower part of the tummy.
It is usually performed on people who have excess skin as a result of having babies, or people who have lost significant amounts of weight causing loose skin in this region.
During the surgery, the tummy muscles can be tightened up to improve the appearance of your waistline.
Choosing a Surgeon
It is important to choose a surgeon that is qualified and highly experienced in tummy tuck techniques. If any complications arise during surgery, an experienced physician will know how to deal with them efficiently. Also, the more patients a surgeon has treated, the more practiced he should be at using various liposuction techniques.
Know your Celebrity Cosmetic & Plastic Surgeon Dr. Milan doshi Visit surgeon profile
The cost of a tummy tuck
The cost will depend on a number of factors including where the operation is to be carried out, the expertise of the surgeon and how much work needs to be done in order to see significant results.
Book an appointment: https://www.drmilandoshi.com/contact-us/