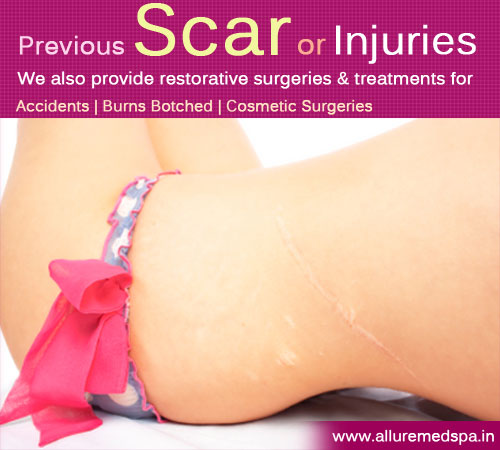 Scar Revision or Scar Removal | Scar Reduction Cosmetic Surgery
Are you wanting to erase scare?
Want to take of ugly scar and scary memories?
Want to get the scar less fine look?
Here is the solution that really works.
Allure medspa now offer you most advanced Scar revision surgery and treatments
Erase Scar and cut marks
Add confidence in life
Safe and affordable
Cosmetic Surgeon Dr. Milan Doshi's Allure Medspa is one of the biggest ISO 2001:2008 Certified Cosmetic Surgery, Cosmetic Skin treatment Centre for Men and Women. If You Could changes one thing about you, what would it be? Come tell us, we will show you the possibilities and help to unwrap a new, more confident you.
Scar eraser Surgery/treatment at Allure medspa:
Surgery or Most advanced Fractional CO2 Laser
Day care
Most of the time in Local Anasthesia
laser is a OPD based treatment
Technology of Scar revision at Allure medspa:
We provide two optionswith state of the art technologies for scar removal
Scar revision surgery is a daycare surgery performed most of the time in local anasthesia only. By the evening you can go back to home and can resume normal life in a day or two.We care for fastest and smoothes recovery.
Fraction CO2 Laser: Certain supeficial and nerrow scar can be treated with this OPD based nearly painless advanced technology. You may required 2 to 3 sitting depending on your scar condition.
Our Celebrity Cosmetic Surgeon Dr. Milan Doshi will evaluate your scar and suggest the best possible option to remove your scar.
Benefits of Scar revision at Allure medspa:
Day care
Minimally invasive
Deliver best possible result
Fastest and smoothest possible recovery
Safe and affordable
How much does scar revision surgery or treatment cost?
For an estimate on how much a Scar Revision Surgery may cost, we recommend that you call Allure medspa on +91 9869041559 for our latest Scar Revision Surgery Price. For specific information based on your individual needs, we will be happy to arrange a consultation.
To speak to a scar revision surgery expert in a consultation, or to find out more about scar revision surgery, contact Allure medspa today.
Book an appointment: https://www.drmilandoshi.com/contact-us/