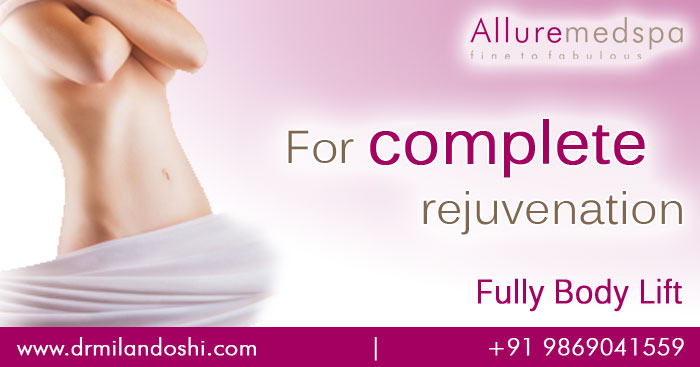 The bad thing about weight gain is that it keeps on increasing. There are certain things in life that we hate to get in excess. One such thing is fats. No person would like to have extra amount of fat in their body. Even if we are successful in removing the fats, the skin later gets saggy and loose. Now, science has invented the technique to get a tighter look for your body. The technique is full body lift.
Candidates for Full Body Lift:
The candidate's Full Body Lift are mentioned below:
It is ideal for those women who want to have their body back after the phase of pregnancy. A women's body changes after giving birth. The skin gets saggy. The procedure will help to maintain and get the previous body shape.
Patients who have undergone bariatric surgery for weight loss. After the surgery, the skin at times gets saggy and therefore requires to be tightened up. The procedure will help to maintain body contour. It is advisable to wait at least a year after bariatric surgery to pursue fully body lift.
How the surgery is performed?
The procedure is performed in both the upper and lower parts of the body. It is performed to shape, tone and contour the buttocks, chest, back, thighs and breast. It is an extensive surgery and takes around four to seven hours to perform.
It is performed to treat and remove excess skin, cellulite and other problematic areas. The procedure is performed under general anaesthesia. In the procedure, the surgeon will make horizontal incision above the thighs and buttocks. The horizontal incision will be created along the pubic area, removing excess tissues and fats. Even liposuction method is used. Later the stomach muscle will be tightened. This is for the lower body lift.
For the upper body lift, the surgeon will remove the skin around the breast. The fat from back and waist will also be eliminated. This is an extensive medical procedure, therefore takes between four to eight weeks to heal.
Even arm lift or upper thigh lift surgeries are also considered after the body has completely healed from the previous surgery.
Post care and recovery:
After completion of the operation, bandages and undergarments are provided to be placed around your abdomen and waistline to provide additional support. Your surgeon will provide medication in case you experience some pain and swelling. It is very important to follow your surgeon's instructions very carefully for faster healing.
Book an appointment: https://www.drmilandoshi.com/contact-us/