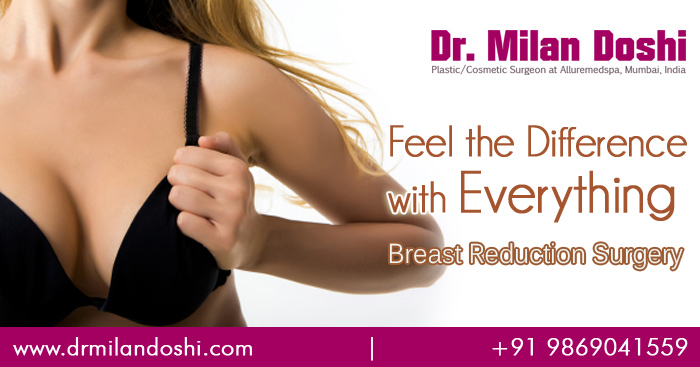 In society women with large breast are at the top of the hierarchy among their gender in terms of magnetic factors for noticeable reason, but what many people fail to see are the drawbacks of having large breasts. A woman with large breasts is self-conscious due to always being in spotlight. Physical pain around neck, shoulders and back region are also common troubles for women with large breasts. Some women feel skin irritation beneath their breasts. It makes working out a difficult process plus their clothing choice also gets affected. They lose out on the fun around shopping, because they can't seem to find shirts, bras which suit their taste and style. Although being self-conscious about the way we look is normal, but if it's hampering your growth and in general making your life difficult then a breast reduction surgery can provide a way out for women with large breasts.
Before diving in on surgical table you must discuss your expectation with surgeon as having realistic expectation is quite an important part of the surgery. You should also be in good physical health and your breast should be large enough to bother you physically. Your surgeon would ask for some lab test prior to your Breast Reduction Surgery, and if you're a smoker then six weeks prior to the surgery you must stop. It's urged to achieve an optimum weight to achieve a result of patients liking. Some swelling and bruising is expected to last for around two to three days, but it would become less apparent with time. Results are visible quickly after the surgery, but it might take up to six months to achieve the optimum end result.
Mumbai is getting crowded day by day and with growing times role of women is no longer restricted to just household duties. A lady travels to her work and back in crowded road, trains and bus so being healthy and fit becomes an almost necessity. To get the excessive weight of your shoulder (A Breast Reduction Metaphor) Visit Alluremedspa. Dr. Milan Doshi the world-renowned Board Certified Cosmetic Surgeon with experience of performing over thousands of surgery will make sure you'll get the body of your dreams.
Book an appointment: https://www.drmilandoshi.com/contact-us/