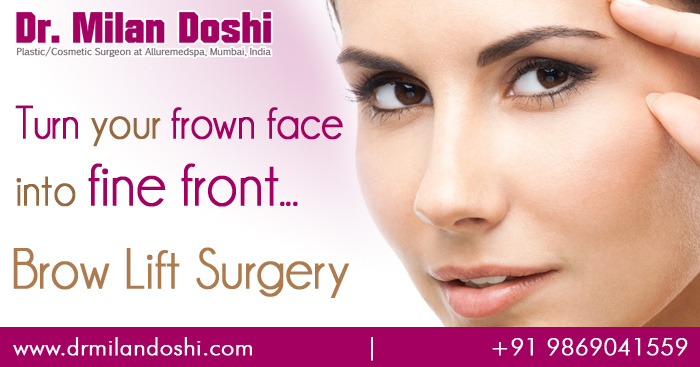 I don't believe in growing old gracefully, and today with advancement in cosmetic field we can improve easily on our shortcomings. Our looks are always going to make us feel better, and honestly to paraphrase Gerard Butler here, 'no one falls in love with your personality at first sight'. Looking good and young will always serve you well. One of the first problem people face with growing age are wrinkles, which appear on the brow. These Wrinkles which are often horizontal make us look older than we actually are, and they make our faces seem like frowning . Extra skin and fats bring down our eyelids weight, and often when eyebrows fall down below our forehead bones extra skin is generated.
Basically, there are two techniques, through which brow lift surgery is performed: open and closed. The open procedure not only involves repositioning of the eyebrow, but also patient's forehead skin, length and hairline density. Scaring is almost non-visible with this procedure. The surgery is performed by infusing patient with anaesthesia for their comfort and safety. Type of anaesthesia used for the surgery depends on doctor, but often sedation approach is used by the surgeon. Surgery is an open procedure, performed using a scope in which small incision are placed at the hair line region. Area of incision is at the hair line, and surgeon pulls the skin away from underling tissue. Surgeon simultaneously removes the fatty area and muscles are tightened in order to achieve desired smooth result. Consulting a professional surgeon before jumping on the surgical table is essential, as the doctor would analyze your face to give you a detail understanding about this cosmetic enhancement procedure. Remember having a realistic expectation about the surgery is important part of any cosmetic procedure, and it's the doctor who would give you a rough idea about the procedure.
Alluremedspa is globally recognized name cosmetic surgery. Located in Financial capital city of India, which is also known as the city that never sleeps; Mumbai. This decade old establishment is co-founded by Dr.Milan Doshi. He is world renowned celebrity cosmetic surgeon, with experience of performing over thousands of successful surgeries. Alluremedspa is furnished with up to date technological equipment and facilities.
Book an appointment: https://www.drmilandoshi.com/contact-us/