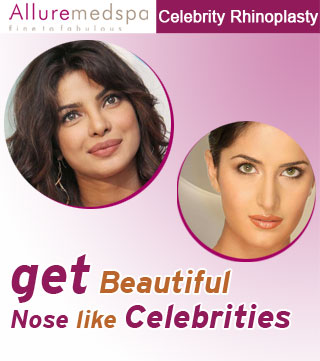 There is a growing interest in getting cosmetic surgery to replicate the looks of celebrities. This trend has some alarming associations to it, but isn't all bad. However, it is important to remember that rhinoplasty has its own risks and issues, and it may not be worth it.
Celebrities are everywhere and the pressure to look as good as them can be incredibly powerful. There is a wave of people though that are going in to get cosmetic surgery not to attain something like a celebrity, but to get an exact copy. A popular place on the body to do this is the nose. There are several people trying to get rhinoplasty so that they can have an exact one as a celebrity.
Rhinoplasty surgery, though very common, is still very involved. It is primarily done to fix injury, to increase breathing ability, or for cosmetic reasons.
Some pros to getting a nose like a celebrity's are that you may gain confidence and and self-esteem. While it may be difficult to be bombarded with celebrity images day in and day out, a good candidate for rhinoplasty is one that has an out of proportion nose, is in good health, is emotionally stable and has realistic expectations. It might not be realistic to achieve a celebrity's look.
All in all, such surgeries are involved and have a longer recovery time. If you're very unhappy with your nose, it would be a good idea to talk with a doctor who is board-certified and experienced and he or she can help you determine if rhinoplasty is for you. If there is a nose that you love, the doctor can use it as a model for your new nose, but in the end, you will still be you.
With best rhinoplasty surgeon Dr. Milan Doshi can improve the shape of your nose. However, you need to have realistic expectations when it comes to surgery.
Disclaimer:
We are not saying they have done Cosmetic Surgery & also we have not done, this is the only a questionnaire.
Book an appointment: https://www.drmilandoshi.com/contact-us/