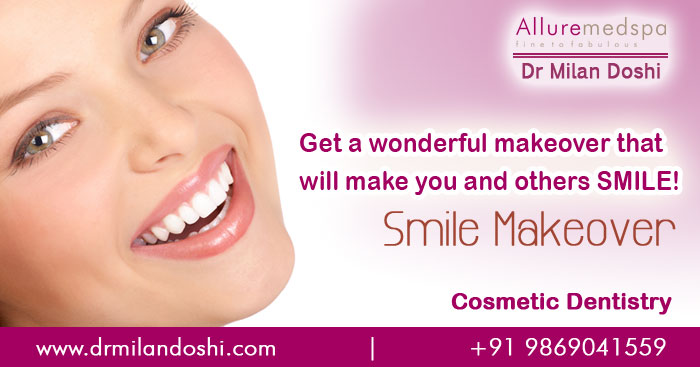 Get a wonderful makeover that will make you and others SMILE!
"Smile and the world will smile back at you", they say. This saying holds a lot of truth unless you are not very comfortable about your own smile. People hide a smile for various reasons. Some have stained or broken teeth; some have receding gums, while some fear that their decayed teeth will scare people. Instead of feeling bad about this potentially reversible condition, it is important to take a first step towards treating it.
So if you are not happy about the way you smile or the way your teeth appear, you must try the cosmetic smile makeover option. The process of smile makeover involves a wide range of cosmetic dentistry procedures like dental veneers, composite bonding, dental implants and teeth whitening.
Dental cosmetology doesn't believe only on improving one affected area but also takes your overall personality into consideration. Your complexion, your facial profile, skin tone, hair colour, your overall teeth dimensions, gum and jaw conditions are carefully examined before the treatment is performed.
Following treatments can throw a light on how a smile makeover is done:
Tooth Cleaning: Opt for a Tooth Cleaning treatment in order to get rid of bacteria. A healthy smile is always attractive.
Teeth Polishing: If shiny, smooth teeth is your dream, then Tooth Polishing can help you achieve it.
Teeth Whitening: If you have stained or yellow teeth, then the Teeth Whitening treatment may do wonders for you.
Tooth Colour Filling: Tooth Colour Filling can be not only be used to replace your old filling but also to give your teeth natural appearance.
Tooth Jewellery: Jewel-studded, sparkling smile looks highly attractive. Opt for the Tooth Jewellery treatment to get that ideal showbiz smile you always wanted.
Dental Veneers: Dental Veneers match your natural teeth appearance and it is recommended that you go for porcelain veneers to achieve better results.
Gum Contouring: Also known as gum reshaping, gum contouring is the right option to cure 'gummy smile'.
Enameloplasty: Enameloplasty is a solution to all these problems as your teeth are corrected, reshaped and polished during this process to give you that attractive smile.
Crowns Bridges: Improvement in the smile, speech and chewing function can be achieved by getting the Crowns & Bridges treatment done.
Dental Implants: Composed of titanium, dental implants provide a strong support to the jaw structure. The treatment is reliable and has high success rate.
Dentures: Dentures don't only look great; they also provide support to the jaw, making the chewing ability easier.
Well, you need to consult an orthodontist and discuss your requirement. Most treatments are combined to help you achieve a wonderful makeover. So, take the first step towards a smile makeover and win the world by your smile.