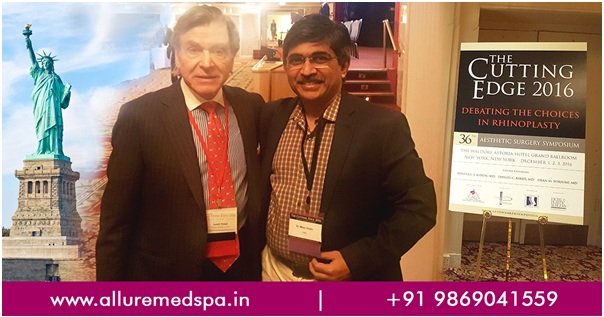 The advent of a brave new world has brought in many changes to the way we function. Times have changed and so have people. Our needs and demands have gone up and science and technology has always lived up to those demands.  In my experience of near about 2 decades as a Cosmetic Surgeon, I have seen the world change.  The populace I see now wantsto live the life they envision for themselves, which also includes looking younger and beautiful. Beauty that fades away with time can now be restored in many ways. As a surgeon, I must say that the cosmetic surgery trends in India have shown a surprising graph. The last three decades has shown that Indian Cosmetic Surgery market is all set to grow exponentially in next few years. The generation that is opting for these procedures is equipped with knowledge, supported by fresh ideologies and encouraged by the latest growth in technology. The need to look your best is something everyone desires. Cosmetic surgery gives you just that but there is always a tinge of worry that has people skirting around the edges and not taking a plunge into the world of plastic surgery. The world of cosmetic surgery was at a time limited only to woman but now men too have started extensively using various procedures to look their best.
Good looks inspire confidence. It's a common knowledge and well known fact that when you look good, you feel good. A few glitches in your body can have adverse effect in your overall persona. This is where plastic surgery comes in and the new world has embraced it completely. There is a taboo and lots of judgement around availing plastic surgery. People often stress on the idea of accepting your body the way it is. While that stands true, there is no harm in wanting to look your best and if science and technology aids you to do so, there is absolutely no harm in proceeding with the procedure. The number of people who avail cosmetic surgeries is astounding and it increases every day. The approximate size of cosmetic surgery industry in India on a whole is worth Rs. 460 Crores (around $110 million)and most of the aforementioned revenue is generated by surgical procedures.Consumers are not only aware of what procedures exist; they also know exactly what they want.  In short, plastic surgery helps you reduce theinadequacies of your body. Gone are the days when a person had no other options than to just deal with the body they were born with. Plastic surgery helps you sculpt your own version of you. A better, fitter,healthier and a more beautiful version of you.
Plastic Surgery is not just about correcting a nose or getting rid of extra body fat, it restores confidence, allowing people to live life freely and fully. However, there are various things I believe you must consider before undergoing a surgery. Primary of which is a good doctor. It is quite easy these days to find a surgeon who could perform various procedures on you. Nevertheless, what you need to know and remember is that, plastic surgery while being a purely cosmetic procedure is still undoubtedly a surgical procedure. It may result in swelling and soreness, but the pain will not be unbearable. As the old adage goes, 'No pain, no gain'. With plasticsurgery, the pain in non-invasive procedure is minimal and in invasive procedure,it isbearable. The results of these procedures always supersede any pain you experience. This alone makes the experience worth it.
However,the most important aspect of any cosmetic surgery is choosing the right surgeon. A doctor whom you can trust is the most vital element of any medical procedure and that applies to plastic surgery as well. A person you trust your body with should not only be well qualified but should have experience that speaks of his skills. I have mentored over 50 plastic surgeons and taught them different techniques of cosmetic surgery. My opinion is based on years worth of facts, training and experience. This is why I stress on the importance of choosing a doctor who has been trained well in all aspects of cosmetic surgery. A highly trained surgeon can guide you pre and post your surgery. Ensure that your surgeon has necessary credentials along with relevant experience.
Armed with right knowledge, good doctor and right procedure, you can achieve the look you have always aspired to have. It is essential to remember that the power to change yourself lies within you.