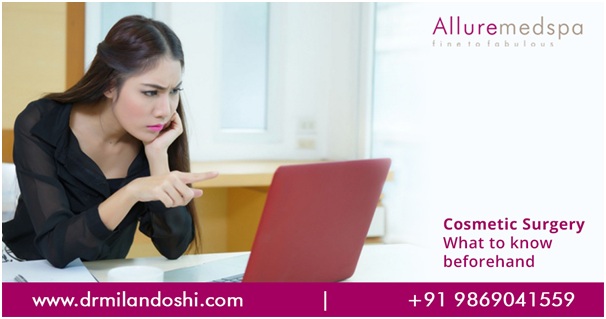 The desire to improve personal appearance whether through facelift, Rhinoplasty or Breast Augmentation is a highly individualised choice and a private decision. People get cosmetic surgery done for varied reasons, at times to recover from physical changes, to enhance a feature or correct any unbalanced feature they are born with, turning to cosmetic surgery helps to fit in and rediscover the lost self-confidence.
As cosmetic surgery is a personal decision and as like any other medical procedure, involves critical aspects like health implications, results and costs it is important that prospective patients educate themselves well before hand. Celebrity cosmetic surgeon Dr. Milan Doshi strongly suggests that every patient must have a very clear idea about what cosmetic surgery can or cannot do. In other words, it is about having realistic expectations.

You must work closely with your doctor who will help you understand the potential benefits and limitations of Cosmetic procedure. So if you want to go ahead with any cosmetic surgery like a Facial Surgery or Weight Loss Surgery, we have enlisted the following do's and don'ts that will help you make a better decision before you proceed:
Be watchful about these red flags!
Do not go for cosmetic procedures in un-authorized locations or informal, unlicensed settings.
Price should not be a determining factor. A clinic that quotes you significantly lower than others may not be the right selection. If cost is a barrier, it is better to save for the procedure for a reputed and authorized clinic as cosmetic surgery is a lifetime investment. So invest wisely!
Don't undergo a procedure that promises you to replicate someone else. Each individual is gifted with certain characteristics and physical features. A competent cosmetic surgeon aims to enhance your overall look and set realistic aesthetic goals.
Don't rush in selecting your cosmetic surgeon. It is a life-changing experience and needs careful thought
Things you must do!
Do it for the right reasons. It is advisable that you consider a cosmetic enhancement for your overall betterment and not to fulfil other's expectations.
Do check your surgeon's credentials. Cosmetic procedures should be performed by a physician who is board-certified and experienced to perform the procedure you wish to have.
Be prepared to follow post-operative and pre-operative advice. Your cosmetic surgeon will give you a rough idea about the recovery and healing time post a procedure so that you can organize a recovery plan well in advance. Pre-operative advice like quitting alcohol and smoking may be strongly advised.
Do maintain a healthy and stable weight before a procedure. Fluctuations in body weight are likely to negatively impact outcome for procedures like weight loss surgery. Watch out for a stable weight in order to maximize your procedure results. A good diet plan will minimize downtime and ensure faster recovery.