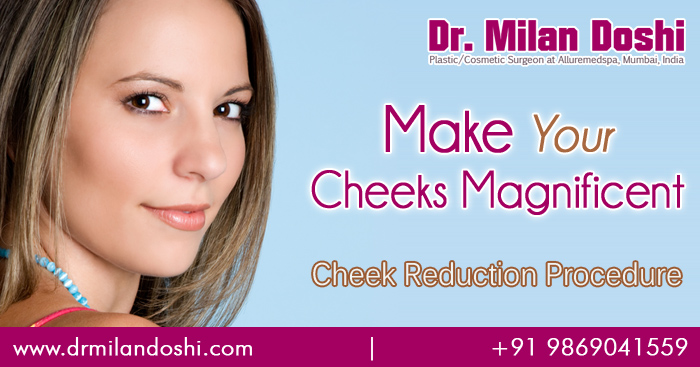 Most adoring feature of any child is his or her cheeks. We just can't seem to resist pinch or touch them, and in good sense of right and wrong babies do seem cuter with those chubby cheeks. Even when they grow up chubby cheeks are thought of as sign of good health, but as we grow up through that awkward stage of teenage year's narration changes. Fine I won't divulge into my own story, but as we become adult's those chubby cheeks can choke your charisma away (slight exaggeration here).
As no amount of exercise, medication or meditation can reshape those chunky monsters since cheeks doesn't only contain fat but to a certain extent tissues and muscles also.Don't worry there are many among us who face similar problem, and this where a Cheek Reduction Surgery provides a solution to your worries.
Cheek reduction is not a complex procedure even if you contemplate cutting and removing a piece of cheek bones as a complex idea. It carries same principle as those of liposuction, and like liposuction fat removal of cheeks would give individual sense of superiority. Procedure usually takes only an hour or so to finish, and sometimes combined with a face life to give more pleasant output it might increase the procedure time. During buccal fat extraction, your fat pads that augment your lower cheeks will be removed. These pads, which can be found in your cheeks and along the sides of your face, are the real reason for your face's rounded look. Some of this buccal fat can be removed surgically through incisions inside the mouth which are about two to four centimeters in length. The incision is located in the back of your mouth above your second upper molar. Non-dissolvable sutures are mostly used to close these incisions.
If you are looking for a board-certified cosmetic surgeon for cheek reduction surgery in Mumbai, look no further than Dr.Milan Doshi of Allure medspa. He has experience in performing more than thousands of surgery, and world renounced for delivering excellent results. Remember to follow guidelines given to by surgeon for smooth post-op recovery.
Book an appointment: https://www.drmilandoshi.com/contact-us/