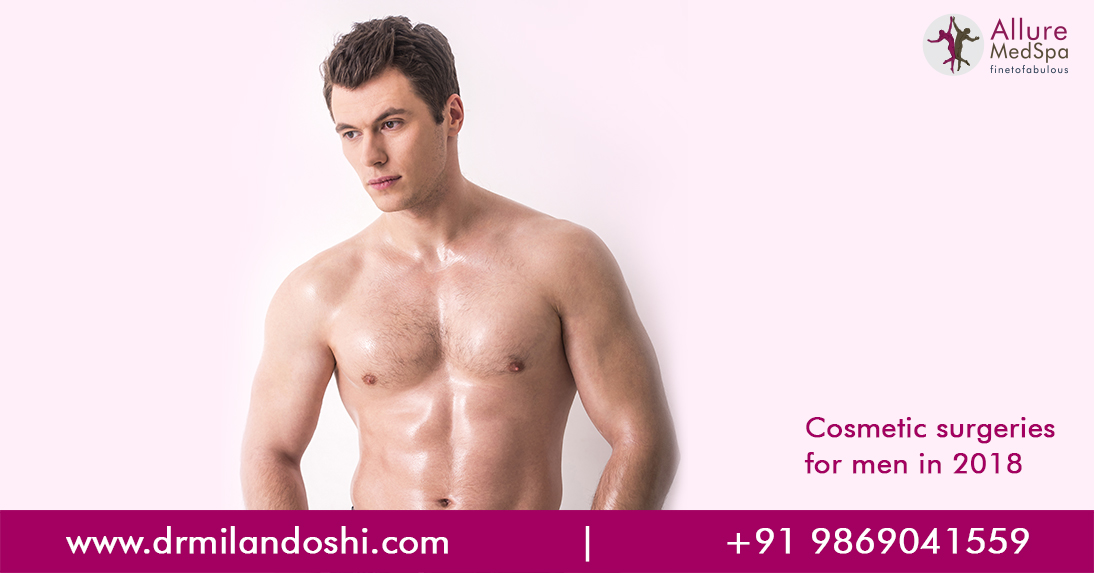 Its 2018 and men has finally embraced the art and science of cosmetic surgery. Cosmetic surgery in turn has rewarded them with surgeries that will not only help them look and feel better but also help them lead life with renewed confidence and vigor. So without much ado here are 6 surgeries that are Procedures seamlessly tailored for men.
Men have unreservedly accepted the world of cosmetic surgery. A huge number of men suffer Gynecomastia or engorged male breast. Most men try to diet hard and work out harder to get rid of it. However, as you age the Gynecomastia becomes worse and horrendously more protuberant. The only way to get rid of man boobs is through Gynecomastia surgery. This ensures that male breast is gone, giving them achieve hard, flat chest making it one of the most popular surgeries.
Sometimes no amount of exercise or diet can get rid of extra fat. This is as common for as for women folk out there. This is where liposuction helps people irrespective of their gender. Liposuction eliminates fat that is unresponsive to exercise and diets. Over a period of time stubborn fat is likely to ruin the way you look. Liposuction surgery can be used to target various parts of your body to shape it well. This makes it one of the most demanded procedures for men among cosmetic surgeries.
Eye lids with bags will make your face will look weary, fatigued, exhausted and mostly lethargic making you look older than you are. Nothing, nearly nothing can fix this except a blepharoplasty. Blepharoplasty also known as eyelid surgery, is a facial plastic surgery, that can help you get rid of those saggy eye bags and make you look fresher, fitter and healthier.
If you thought facelift was only for women, it's time to change the way you think. The facelift surgery is quite popular among men too. Men battle the ill effects of aging and gravity just like women do. The number of men who have been undergoing facelift has certainly gone up. This procedure revivifies the face, neck, and jaw line and gets rid of signs of aging. This makes it one of the most demanded procedures for men.
Botox is one of the most well-known and popular anti-aging treatments. It is exceptionally effective. Botox works by briefly preventing the signals from nerve cells reaching the muscles. This leaves the muscles deprived of orders to contract.  This paralysis of the muscle for the period of the drug's effect and evens out wrinkles, frown lines and crow's feet. Men all over the world have been known to use and reap the benefits of this procedure.
Men are now choosing to have their facial hair sharpened and shaped in order to look professional, smart yet laid back. Many also prefer to have their chest hair removed or at least reduced. This new trend in grooming involves laser treatment. Many are using the laser to shape their beards while some others targeting patches of hair on chest, under arms, groins, cheeks, chins or neck. They choose laser treatment to have their body hair shaped well to achieve that perfect rough look while looking cultured.
Book An Appointment: https://www.drmilandoshi.com/contact-us/