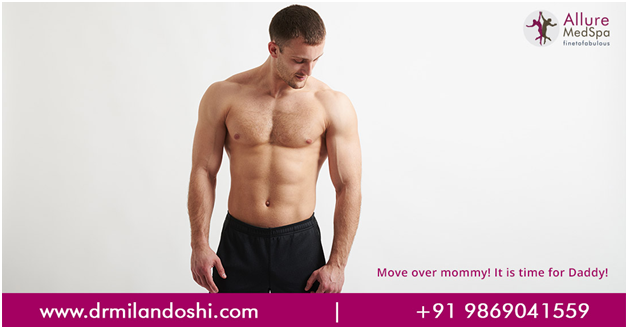 Why should mommies have all the fun? Why should they be the ones to remain young and beautiful? Don't men deserve a chance to look great and feel good about themselves too? Well, move over mommy, it is time for daddy. Yes, mommies and women worldwide have mommy makeover over and now men have something to help them turn back the hands of time, reverse the effects of aging and fix anybody issues they have its called Daddy Do Over!  Daddy do over, just like mommy makeover is a concept, a bouquet of surgeries designed to give men a chance to have either younger body back. With more men, embracing the idea of cosmetic surgery to look good, daddy do over is slowly gaining popularity. Daddy do over encompasses of a bunch of surgeries, which are Liposuction, Gynecomastia surgery, Skin treatment, Blepharoplasty. Each of these surgeries will help men look younger, smarter and better.
Liposuction
Along with the age comes unwanted fat. Sometimes no amount of exercise or diet can get rid of extra fat through liposuction. Liposuction targets fat that is unresponsive to exercise and diets. Over a period of time accumulated fat tends to ruin the way you look. Liposuction can be used to target various parts of your body to shape it well.
Gynecomastia
A huge number of men suffer Gynecomastia or enlarged male breast. Most men try to diet hard and work out harder to get rid of it. However, as you age the Gynecomastia becomes worse and shockingly more prominent. The only way to get rid of man boobs is through Gynecomastia surgery. This will ensure that your male breast are gone and help you achieve hard, flat chest.
Skin treatment
Like women, men too fall prey to signs of aging. Crow's feet, fine lines, wrinkles, age spots etc are a bane of every man's existence. Men's skin is tougher than women's so over the counter products do not really work on them. However, cosmetic surgery has quite a few procedures that can help men look younger and better. Botox, laser treatments and dermal fillers are a few options men too can explore.
Blepharoplasty
Eye bags are one of the signs of aging most men wish they could get rid of. No amount of good sleep and cosmetic products can help you get rid of this affliction. Blepharoplasty or eyelid surgery can help you get rid of those annoying fat deposits under theeye. Moreover, it also helps rejuvenate eyes maki8ng men look younger and smarter.
Book An Appointment: https://www.drmilandoshi.com/contact-us/