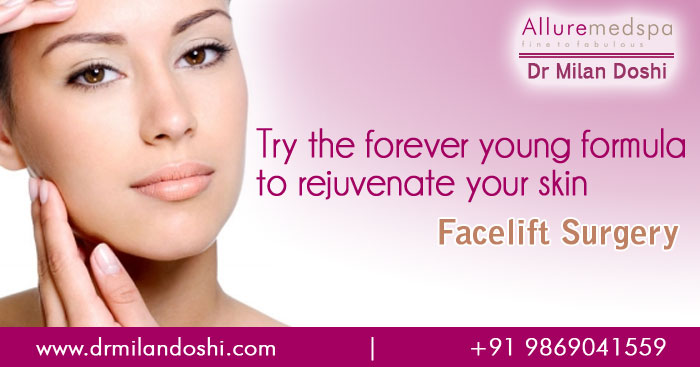 Fast city life and work pressure results in dull facial appearance. The graph of this problem is increasing thousand folds and facelift surgery is the solution to this problem. There are multiple surgical techniques. Neck lift and face lift surgery aims to combat these effects by removing excess of fat, tightening underlying muscles and re-draping the skin, giving you a more youthful appearance. Rhytidectomy is the medical term for facelift surgery.
Facelift surgery is a good option for you if:
You are physically and mentally healthy.
You have a positive outlook and specific, but realistic goals for the improvement of your appearance.
Above age of 18 years.
Why Facelift?
Face lifts are done to make an older face look younger by eliminating wrinkles, lifting sagging muscles, and tightening the skin.
Procedure
It is done under general or local anesthesia. The incision is made, starting with the temple area and circles the ear. The skin is raised, and the muscle and tissue underneath is tightened. Some fat may be removed. The skin is then re-draped over the face and the incision is sutured. The surgery usually takes several hours.
Rejuvenation procedures typically performed in conjunction with a facelift are brow lift, to correct a sagging or deeply furrowed brow lift, and eyelid surgery to rejuvenate aging eyes.
Book an appointment: https://www.drmilandoshi.com/contact-us/