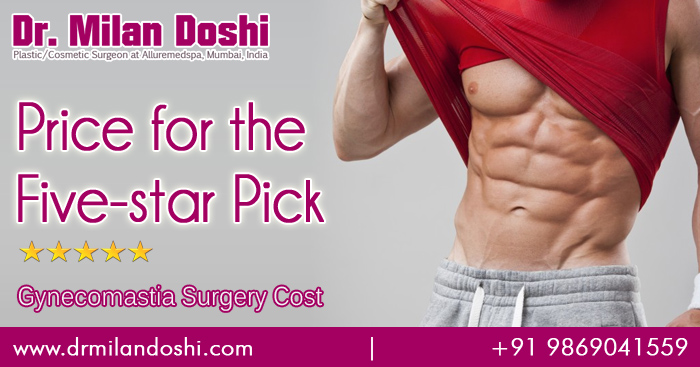 Human body through times goes to many changes, and if it's not taken cared of properly then we are faced with many conundrums. One of the unforeseen problem men can face is enlargement of breasts more commonly known as man boobs.  It's openly gagged out topic in our culture particularly in Mumbai with mumbaikar mentality, but its psychological harm on individual could be devastating especially with teenaged boys, for whom it can hamper their self-worth and social stance making their lives devastatingly tough. There are many men today, living in depression because they couldn't deal the body changes.
To understand the solution to this condition i.e. Gynecomastia it's of utmost important to comprehend the breast tissue;which are categorized into two kinds-
Glandular tissue which is dense and firm
Fatty tissue which is soft
Gynecomastia is the medical term for male breast, and contrary to popular belief man boobs problem can't be resolved by surgery. Now, you might ask why? Well man boobs are not fats,but hard rubbery breast glands behind the nipple which could only be removed through surgery.
General surgeon fee would vary from city to city, and how experience the surgeon is. Breaking down the cost depend whether it's a surgical resection or combination of procedure involved. Remember complete cost of gynecomastia is not only the surgical fees, but it also involves many other factors. Pre-surgery you are asked to get complete blood check-up to see whether you are suitable for the surgery. Sometimes root cause of gynecomastia could be unknown, and to identify the origin of problem some lab test may be asked to get done making your lab fee rise higher. Patients are also told to wear a special compression vest following the surgery, so money for that is also going to come out of your own pocket. I almost forgot to mention post-surgery visiting charges to your cosmetic surgeon, and the operating room cost plus the anaesthesia. Operating room cost depends on the medical centre you choose, and anaesthesia cost depends on your weight and time. To achieve a great result don't penny pinch on your surgical procedure.
Book an appointment: https://www.drmilandoshi.com/contact-us/