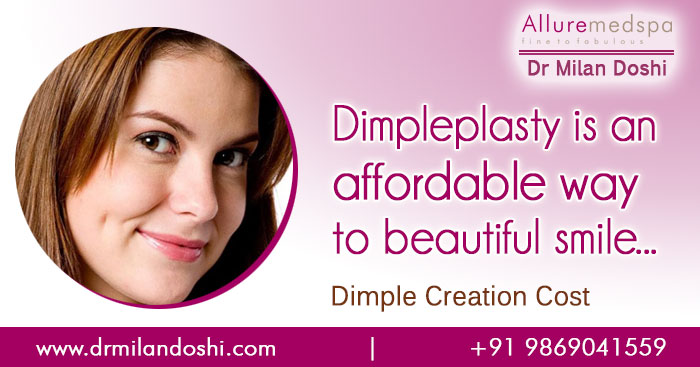 Dimples look cute and help lighten your personality. Dimples certainly help brighten a smile and add character to your personality. If you want cute and naturally pleasing dimples, then dimple creation surgery is one option. This surgery is a relatively easy and painless way to form a dimple for those people who have always wanted one. Will having a dimple change your life or bring you better luck? That has not been scientifically proven. However, it will definitely change your appearance; your Plastic Surgeon will speak to you in detail to make sure that dimple creation surgery is right for you.
Dimpleplasty Procedure
Also known as Dimpleplasty, a dimple creation surgery is a daycare, painless procedure, which is usually done under local anesthesia. The surgery takes around 30 minutes. During the actual procedure, an absorbable "fixation suture" is then used to catch the underside of the cheek skin and secure it to the deeper soft tissue of the cheek. The inside of the cheek is then closed with one or two absorbable stitches, which dissolve in a few days. There is no incision or scar on the outside skin.
Recovery
You need to limit the movements of your face to aid faster recovery. The scarring between the inner skin and muscle will cause a permanent dimple even after the suture is absorbed. This may take a week.
Benefits of dimple creation:
Permanent beautiful dimples

Boost in self-confidence

Daycare treatment

Instant result

Minimal downtime
Allure Medspa, one of the best centers for dimple creation surgery and other facial enhancement treatments, takes utmost care for your comfort and confidentiality.  We, at Allure medspa, make sure that there is no pressure on you to have cosmetic surgery. We provide a consultation to make sure that you know exactly what to expect from your surgery.
To find out more about dimple creation surgery cost or to organize a consultation, contact us today on +91 98690 41559 or Email your queries to us at info@alluremedspa.in.
Book an appointment: https://www.drmilandoshi.com/contact-us/