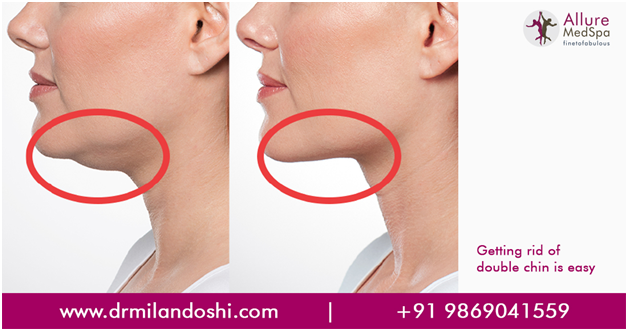 Losing weight can be the most rewarding experience of all. After months of hard work, you finally have the body you have dreamed of and cannot wait to flaunt it. However, the perfect body must have a perfect face and perfect face has no fat. A good face not only has facial features in harmony, but also a well-defined jaw line, prominent chin and not much fat in the cheeks. Having a double chin can ruin your hopes for a perfect body. Double chin not only makes you look fat, but it also makes you look old and unattractive. A selfie would look horrible with a double chin. You would be a butt of jokes. People often think of you as fat and unhealthy or even ill when they see a double chin. There are quite a few exercises available to fix the issue of double chin, however not all of them work. Some of them don't work at all. There is one solution that will work and is most recommended course of action, Chin Liposuction.
Chin liposuction is the liposuction of the chin down to extract the extra fat that cannot be eliminated otherwise. The procedure of chin liposuction is quite simple. This can be performed under local anesthesia. A small incision is made under the chin and a cannula is inserted to drain out the excess fat. This fat is dislodged and melted down with a combination of laser and Vaser. The melted fat is drained out and the incision is closed. This is a day care, key hole and stitch less surgery with little downtime.There might be pain, swelling, and bruises immediately after the surgery, but it will disappear in a few days. The patients are asked to wear a compression garment post surgery. The pain is manageable though prescribed painkillers so will only have minimal discomfort. Post the surgery, you will be asked to avoid strain your body for at least a week. You can resume lighter activity post that. Exercises and strenuous activities will have to wait for at least 3 to 4 weeks. Once you have completely healed you can enjoy sharper features and a face that makes you look healthier and younger.
It is easy to hunt for many options online, but not many of them work. Double chin liposuction is a procedure that is widely used and recommended. Don't let your fear of the unknown hold you back. Give yourself a chance to look good and desirable.
Book An Appointment: https://www.drmilandoshi.com/contact-us/