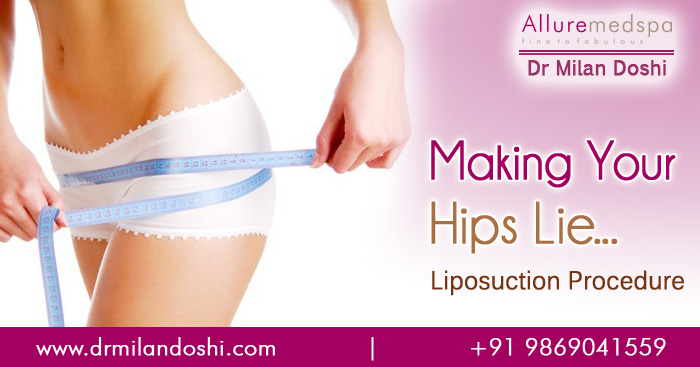 Goal of any makeover should be to achieve that elusive beauty and beauty in the form of cosmetic surgery is a path lot of people are choosing. Today major tool being born in cosmetic surgery through technological improvement is liposuction. Such growth in technological fields is helping people achieve error-free results with Liposuction surgery. If done correctly surgery would give a more natural look boosting an individual's confidence even more as the aim of any surgical procedure is to reshape the body so the individual can rebuild his/her persona. And I believe there is no age bar for feeling fabulous.
The general procedure is as follows:
Once you arrive at the clinic you will be prepped for your procedure. You will be given anesthesia ( local or general ) which will depend on volume of fat and type of Liposuction . Through one or more tiny incision a small tube is inserted to remove fat. Liposuction is performed using a stainless steel medical device known as cannula. Your Cosmetic Surgeon will have discussion with you if you are having more than five liters of fat removed as with such surgery excess skin may also be required to be removed. You should wait for a while before you could fully enjoy the result of your liposuction as the healing process is gradual.
There are three types of liposuction procedure popular in Mumbai here's a brief explanation.
After local anesthesia has taken its effect a small probes are inserted at the target area which gets reduced.  These probes resonate at high frequency emitting sound waves that literally shake loose the fatty cells into liquefied form that are gently suctioned out. The liquefied fat is then removed through a gentle suction process giving optimal body sculpting and quicker results.
Fat is removed by first inserting a small, hollow tube (called a Cannula) through one or more tiny incisions. Guided by the surgeon, unwanted fat is sucked away.
The word 'tumescent' mean swollen and firm. This technique involves injecting the areas of excess fat with a large amount of anesthetic liquid which causes the compartments of fat to become swollen and firm or "tumesced."
Book an appointment: https://www.drmilandoshi.com/contact-us/