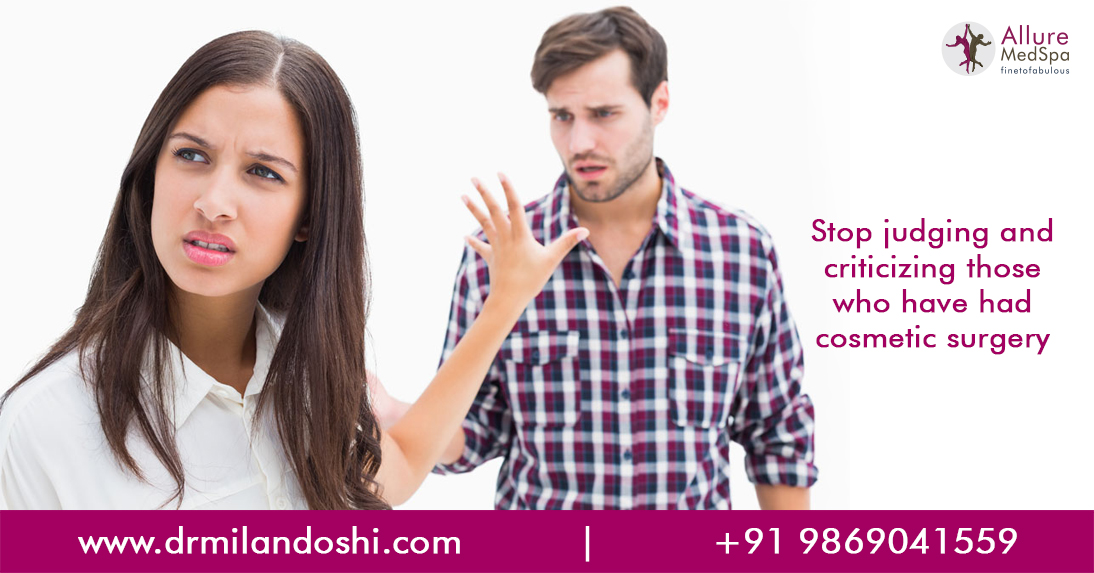 The advocates of natural beauty, the pseudo-feminist and many more do not support cosmetic surgery. Those who support natural beauty call for aging gracefully and accepting your physical flaws as they are while pseudo-feminist rage on about abandoning male ideals of female beauty. The last point is actually redundant when you consider the number of men who undergo cosmetic surgery. Either way, it's safe to say that cosmetic surgery has a lot of haters and faces a lot of hatred. But those who condemn others as vanity obsessed don't realize that most people who opt for cosmetic surgery do it not out the vanity and to have nothing to do with keeping up appearances either.
A lot of contempt for cosmetic surgery comes from those who view it as something only the rich and famous would go for and only so that they can keep up the aura of being otherworldly beautiful. Nothing could be further from the truth. While it is true that most connoisseurs of cosmetic surgery are the rich and famous, your everyday folks are the ones who are taking the business of cosmetic surgery to a whole new different level. The years and science have made cosmetic surgery safer, quicker and the results are also far better. Cosmetic surgery has several benefits which include health benefits too. Brest reduction can solve issues with back pain and help those who have problems with lifting, running and exercising. Tummy tuck has shown potential in helping those with issues of a hernia and stresses urinary incontinence. One the other hand Rhinoplasty helps those who have breathing obstruction. Other cosmetic surgeries help increase self-confidence and reduce insecurities that arise out of body goals being unmet. The doctors who perform these surgeries are highly qualified and are as concerned with their patient's wellbeing as they any other medical practitioner. If a patient requests a surgery that is not necessary for them or is harmful a cosmetic surgeon will simply refuse them on medical grounds and ethics alone. Doctors and patients work together to achieve goals that will help a patient live a better life. There is no harm in wanting something better for yourself as long as it is legal, safe and doesn't harm anyone in any way. Those who look down upon cosmetic surgeries often forget that once people have their self-confidence boosted it can also help them with their mental health. A positive self-image can definitely help people handle social anxiety or depression, low self-esteem and help them be happier in their life.
Judging people for wanting a better life, a better body and shaming them for their choices is unfair. Everyone has the right to be happy and those who choose cosmetic surgery as a means of having a better life should not be shamed. Crafting a better life, a choice everyone has, don't judge, live and let live.
Book an appointment https://www.drmilandoshi.com/contact-us/