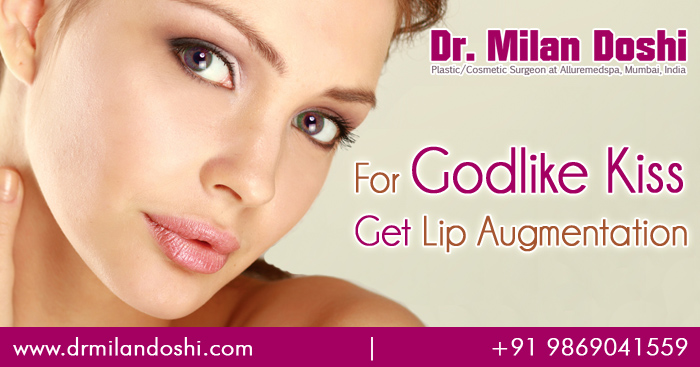 Most sensuous part of individual is his/her lips. Today Most famous lips around are of Angelina Jolie's. In women's cases such sensuous lips are referred as 'Lips of an angel'. They play an important part in everyone's face and life. Lips are used to kiss the person who we love, and express our joy later on with whistling a tune. Lot of time people are unhappy with their lips as they feel they are not well-proportioned to their face or want fuller lips to enhance their appearance. Lip augmentation is a Cosmetic surgery designed to fulfil such wishes.
Lip augmentation provide following functions
Restores lost volume and shape.
Give more symmetry to facial features.
Boost confidence in regard to their appearance.
Today there are many men and women who use Lip Augmentation to rejuvenate their youthfulness. There are several methods through which lip augmentation is performed. Among all the method the most common one used is injectable fillers and most used fillers today are Collagen, Fat, and Restylane. Most common area of injection is on the lips and lip border. Lip augmentation treatment is carried out by the qualified surgeon using the local anaesthesia on patient. Time required for completion of procedure depend upon the complexity and the type of method used. General time required for procedure is almost two hours. Individual might feel some side effect such as numbness, inflammation, redness and some bruising. Complete recovery time maybe one or two weeks and during the recovery patient might go through some uncontrolled drooling. Like with any surgical treatment there is possibility of infection and some side reaction, and hence discuss your queries in detail with surgeon.
Before choosing the treatment for beautiful lips one must seek the advice of an experienced Cosmetic surgeon. During your consultation, you must make the surgeon fully aware of your medical history, and most importantly the final result which you are hoping to achieve through surgery. Patient can even ask the surgeon for pictures of his previous work patients who had Lip Augmentation. In Mumbai at Alluremedspa under world-renowned celebrity cosmetic surgeon Dr.Milan Doshi and his excellent staff you'll find world-class treatment and best result.
Book an appointment: https://www.drmilandoshi.com/contact-us/