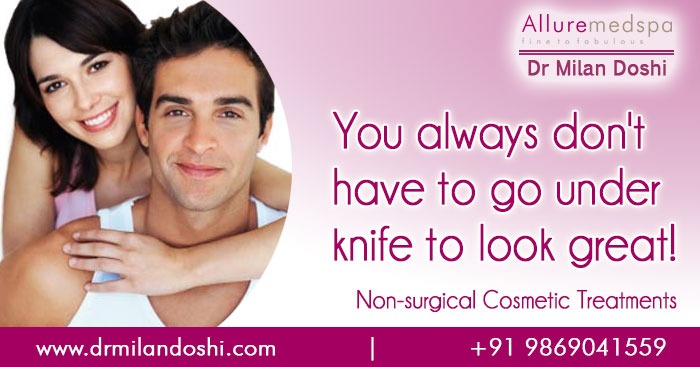 Once upon a time, people were usually apprehensive about cosmetic procedures simply because they are surgical and as a result, more time is spent on the recovery process. Also, more complications are involved when the procedure goes surgical and the fear of a painful experience is omnipresent. So, the demand for non-invasive treatment came to the shore particularly in order to avoid pain, discomfort and recovery time.
Here are some popular minimally invasive procedures:
Botox
Dermal fillers
Chemical peels
Microdermabrasion
Laser Photo Facial
Laser hair removal
Laser tattoo removal
Laser and Ultrasound-Assisted Liposuction
Now let's see what the other elements are that rule a patient's mind while considering a non-surgical Cosmetic treatment.
Common risks
Every surgery includes some common risks or complications and the respective surgeon/ doctor gives the concerned patient an idea about it. General anesthesia is used to eliminate the pain but bruising and swelling occur in most surgical process. On the other hand, such risks are almost non-existent in the non-surgical, laser procedures.
Cosmetic results
With the advent of technology, it has now become possible to get desired results without giving to remove the skin, bone or muscle. Moreover, since the non-surgical treatments follow a simple procedure, the results are more precise compared to their surgical counterparts. The recovery time is also reduced when the person opts for Non-surgical treatments.
Cost
This is a major factor taken into consideration before the final decision is made. Although Cosmetic surgery and treatments have become relative economical; they are certainly not too easy on the pocket. However, non-surgical treatments give you more accessibility and advantages.
Book an appointment: https://www.drmilandoshi.com/contact-us/