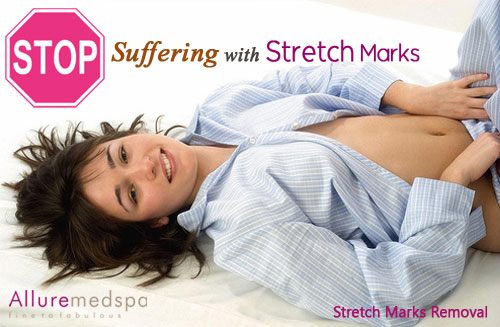 Stretch marks are also known as striae or tiny tears that occur when your skin is overstretched. As a result, the normal production of collagen (the major protein that makes up the connective tissue in your skin) is disrupted and scarred. At first stretch marks may show up as reddish or purplish lines that might appear indented and have a different texture from the surrounding skin. They become glossy and appear streaked in silver or white, and can often turn lighter and almost disappear over time. Stretch marks occur in the dermis, the elastic middle layer of skin that allows it to retain its shape. Stretch marks tend to show up on the breasts, thighs, hips, butt, abdominal area, upper arms, or lower back.
What is the cause of Stretch marks?
Stretch marks are caused when the skin is stretched to the point of breaking down, similar to elastic losing its' elasticity. Losing collagen and elastin in the skin causes stretch marks, loss of tone, fine lines and wrinkles. When there is a breakdown or loss of elastin and collagen fibers or excessive stretching in the skin, the mark actually shows through to the epidermis (top layer of skin).
Stretch Marks Treatment at Allure medspa:
The degree of success with Stretch Marks Reduction Treatment will be impacted by your age, your skin tone, and even your diet.

There are several treatment options for stretch marks.
• Fractional CO2 LASER
• Microdermabrasion
• Chemical Peels
• Radio Frequency
Also over the counter stretch mark treatments are available like lotions and creams.
How much do treatments for stretch marks reduction cost?
The actual treatment required for stretch marks reduction varies depending on your personal requirements, but to get an estimate on how much stretch marks reduction treatments may cost you, please call us now on +91 9869041559 or use our online enquiry form for our latest prices.
Contact Allure medspa today to discuss your individual needs – we'll arrange a consultation with one of our Cosmetologists on how to reduce stretch marks.