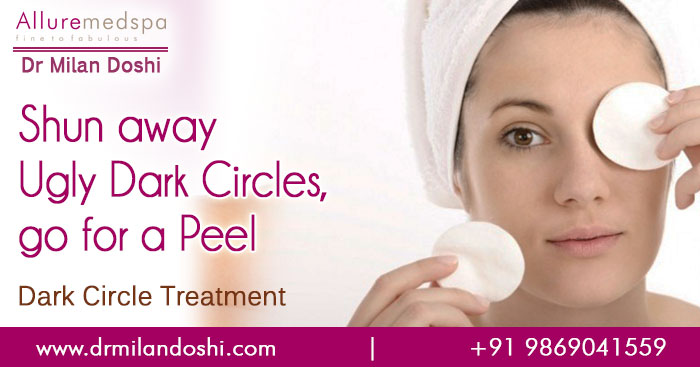 Dark circles, the most haunting outcome of exertion and tension, makes you look tired and fatigued, subduing your facial outlook. Though, how much you work on your physical outlook with proper, scheduled exercise routine and live a healthy life, these dark circles spoil the overall outlook giving you such a tired look and lifeless look.
The skin around the eyes is very delicate as compared to the other parts of the body, it does not have oil glands, and hence it becomes dry and looks unhealthy. It requires proper care and nourishment, not only from within but from outside also.
Moisturizing cream should be applied; adequate sleep and relaxation is very important, followed by a proper clean up of eyes.  It is important to avoid the use of gadgets, especially during bedtime. Deep breathing and daily exercise is helps in blood circulation and oxygenation, controlling stress around eyes.
There are countless reasons for dark circles to be bestowed upon your face. Often, people inherit dark circles from their parents. Thin skin makes dark veins visible underneath the eyes, causing dark circles. Shortage of nutrients can be very well understood with facial manifestation. Moreover, pregnancy and sinus also cause dark circles. The other casual reasons are fatigue, shortage of sleep, physical and mental exertion, and outcome of other clinical reasons.
No doubt that the home remedies work, but up to a certain level and that's the reason you are reading this article to find a way out to get rid of dark circles.
Well, there are cosmetic skin treatments available to treat dark circles, and to get over it. Chemical peel is one of the basic treatments, and to treat the higher level microdermabrasion and IPL or laser treatments are recommended. Consult a cosmetologist to understand which treatment will suit you the best.
Book an appointment: https://www.drmilandoshi.com/contact-us/