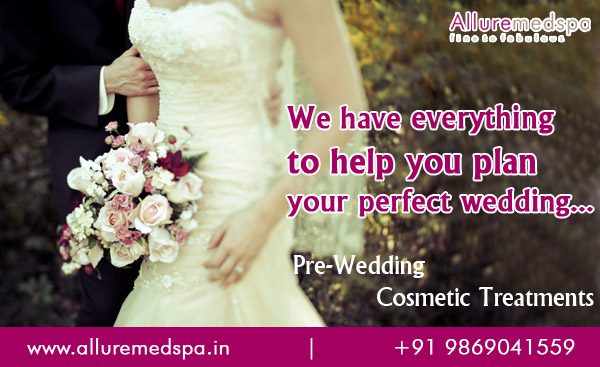 Every bride wants to shine on their wedding day, but sometimes a helping hand is needed. Still, you needn't go under the knife. There are myriad non-surgical cosmetic treatments available these days, which can help you look like the perfect blushing bride (or, even better), from anti-wrinkle injections to skin peels and teeth whitening. You wouldn't be alone either. Pre-wedding enhancements are growing in popularity – for the bride and beyond.
Cosmetic Procedures at Allure medspa
Pre-wedding cosmetic treatments continue to grow and have become much more socially acceptable in recent times. Keen to book in? Remember that you will need to plan ahead to ensure optimum results and time to recover. Exactly how much time will depend on the type of procedure, but your cosmetic physician should be able to guide you. Botox, for example, can show results almost immediately, but it's best to have it done a month before the wedding for the best results.
Botox helps remove nasty frown lines and crow's feet by immobilising certain muscles of the face. But it can also help in other areas, such as under the arms to curb sweating. Hyaluronic acid injections can also help combat wrinkles.
Other options for a new you include laser skin rejuvenation, which removes a fine layer of damaged skin and stimulates the growth of new skin, microdermabrasion, which scrubs off dead cells and smooths rough surfaces, intense pulsed light (IPL), which treats aged and damaged areas, and skin peels, which gently peel away dead skin cells for healthy, new growth.
Dermal fillers can also help plump up and fill hollows, deep wrinkles and scars in such areas as the cheeks, chin and lips. Want a more kissable pout? A lip enhancement will help you to defining your natural lip line and plumping up the fleshy part.
Exercise won't budge a few kilos or stubborn cellulite? There are several body shaping treatments & surgery you can undergo, including infrared body wraps and endermologie.
Further beautifying? There's also laser hair removal, IPL , Fractional Laser Treatment (Laser Skin Resurfacing), teeth whitening and hair extensions.
DON'T leave it too late to schedule an appointment. Find out more about a procedure and how much recovery time you will need before booking in.
Call Us Today: +91 98690 41559 at Allure medspa Cosmetic Surgery Center in Mumbai, India.
Book an appointment: https://www.drmilandoshi.com/contact-us/