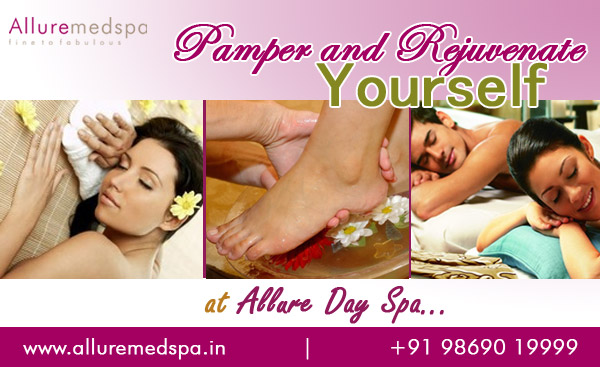 If you are seeking absolute revitalization of your mind, body and soul, then Allure medspa the ideal place for peeling layers of daily stress off your body and mind; and discovering a new, energetic YOU…
Allure Medspa is one of the biggest ISO 2001:2008 Certified Cosmetic Surgery, Cosmetic Skin treatment & Day SPA Center for Men and Women.
What is Allure medspa?
The Reception Area of "Allure medspa" is grand. The sounds and presence of pristine water relax you subconsciously even before entering the center.
The reception is simple yet special with the touches international ambience. All white color, which gives you the meaning of neat, tidy & more hygienic look. Which the simplicity of design is the overriding theme.
The statues of waterfall which comprises of male & female in full while glossy color with attractive body curves & shapes. Reflect the results of the cosmetic surgeon skill.
Day Spa at Allure
The entrance of day SPA welcome you by great Buddha statue which is place inside water body which lit up with small candle & filled with fresh flower's petals. The entire spa has been carefully lit with warm colors. Relaxing aroma coming from all over.
Soothing sounds comes all over the spa. Earth tones of flooring, wooden furniture and warn lights create the ambience of nature site. Once you step in spa area you will feel just relax…… relax…….relax.
Nothing else can come in your mind that time, you want to just meet your soul–focusing upon the highest ideals — introspection, self healing & inner peace in the zist century. A holistic approach to physical, mental & spiritual well – being.
Come, let's relive the ancient way of healing & wellness. Discover the divine in yourself in our exquisitely designed treatment rooms. Natural wood, soothing scents & lush interiors creates the perfect ambience to meet your soul.
Mission
Our mission is to keep you stress-free and healthy through affordable spa therapies. Our aim is to bring the scientifically proven health benefits of spa therapies within reach of more and more guests.
Vision
It is our vision to enhance our clients' natural beauty from the inside out. We see ourselves as providing avant grade beauty and wellness services at all times. Hence, we aim to make the everyday ordinary as extraordinary.
Facilities
Allure medspa has four therapy suites
Two Multi Therapy Luxury Suite with Shower Cabin
A SPA Capsule Room
A Thai Massage Room
One Big Room Comprises of a Shampoo-station, Hand & Foot SPA Station & Two Foot Reflexology Chairs
Allure Day Spa Services
Full Body Massage
Body Scrub
Body Mask
Allure bath
Facial
Hand and foot care
Hair spa
SPA Capsule
Contact Details: 201, Shree Krishna, Opp. Laxmi Industrial Est., Near Fun Republic, New Link Rd. Lokhandwala, Andheri (W) Mumbai-400 053, INDIA
Open 6 days a week from 11:00a.m. to 8:00p.m. | Ph: 022 – 26732961/62 | Mobile No.: +91 98690 19999
Book an appointment: https://www.drmilandoshi.com/contact-us/