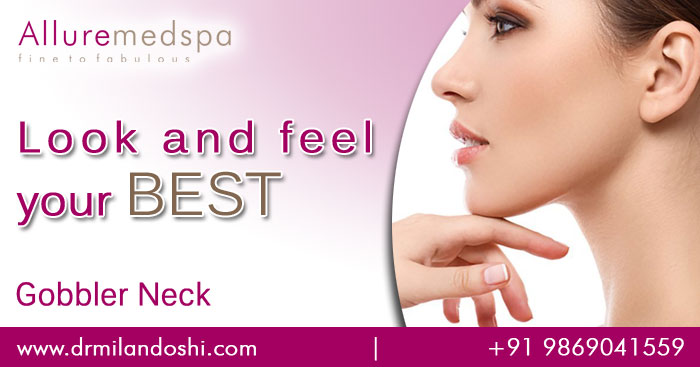 Our skin and face looks bloated once our chin area gets fat. It tends to add age to our face. We tend to look older than we actually are. In such circumstances, what we need to do is undergoing or checking out with a well-known surgeon. The surgeon will help us with the solution. The solution is Turkey Gobbler neck procedure. The procedure will help to get rid of the band around our neck. This way we can get a definite structure of our face.
Some people consider the option of turkey neck surgery that helps them to get a more firm look.  The surgery can be done at any age, even in young people who have excessive loose tissues due to familial factors. The other causes for turkey neck are weight gain, hormonal changes.The procedure starts with making an incision under the chin to tighten the saggy tissues.  The surgeon thereafter elevates the skin and uses sutures to pull the deeper tissues tighter. Liposuction method is also accompanied in the facelift and neck lift surgery. Fatty tissue is thus removed from under the neck or around the jowl region to help provide refinement and sculpting where necessary. It is often done alone or accompanied by these procedures. A small cannula with a hole and suction is used to extract the fatty tissues. As the fat cells cannot multiply, once it is removed from the body it cannot come back. The liposuction incisions are 3 mm in length and become virtually invisible over time.
After the conclusion of the surgery, the incision is closed by making sutures.
After the surgery the first one to two hours is spent in the recovery room. The first night may have to be spent in the hospital if a formal neck lift is carried out. Liposuction can be done as a day case procedure. All bandages and drains are removed the next morning after the surgery. After cleaning the surgical sites, a lighter bandage is applied in place of that. The stitches are removed in a week or two after the surgery. Some patients might experience pain after a neck lift. Pain medication will be prescribed by your surgeon. The doctor advises you to sleep with your head elevated that can help to reduce any discomfort. Heavy physical exercise and driving should be avoided for three weeks following a neck lift.  You should take good diet for quicker healing.
Book an appointment: https://www.drmilandoshi.com/contact-us/