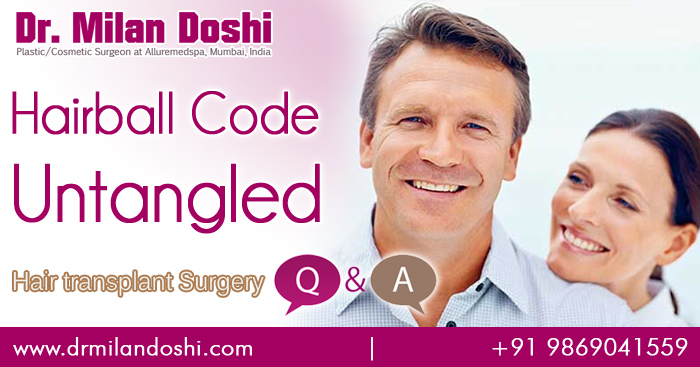 Can young ones get hair transplant?
Hair transplant procedure doesn't have age restriction it's for people who are experiencing balding. There are many reasons for balding such as hereditary, lack of vitamin B, protein, physical stress, too much vitamin A, over use of styling products, autoimmune disease chemotherapy among many other daily factors like stress or sudden loss of weight. Important factor to consider is that balding will continue even after Hair Restoration has taken place Number one thing to do when you start losing your hair is to slow down the hair loss rate. Secondly transplant won't look natural in future; if future hair loss is not taken into consideration, so remember area of hair loss should be of utmost important while having Hair Loss Restoration.   `
Can women get hair transplant?
Absolutely yes, many women who experience hair loss get Hair Restoration. It is important to understand for achieving a good result you should consult with an experience doctor in Mumbai. He would check what kind of condition is causing hair loss; as with women there are many medical conditions which can cause loss of hair.
Does hair transplant look natural?
With advance techniques in Hair Restoration, the ancient days of hair plugs are gone. The hairline created with latest method is so natural that even your Barbour wouldn't know you had Hair Restoration.
Is hair transplant Permanent?
Your natural balding will continue hence you must research the physician you are visiting. He is not only going to perform the procedure, but also going to examine your hair loss and make sure your Hair Transplant result will not last just a year or two but for an entire lifetime. The key tool which surgeon has is his professional staff and technician; as major part of the procedure is done by technicians.
Which is the best Hair transplant clinic available in Mumbai?
I suggest you check out Alluremedspa in Mumbai they have excellent staff and doctor who will make sure you get the treatment you deserved.
Now if you're not a fan of wearing wigs or toupee and are looking for a permanent solution to your troubles, hair transplant is your answer.
Book an appointment: https://www.drmilandoshi.com/contact-us/