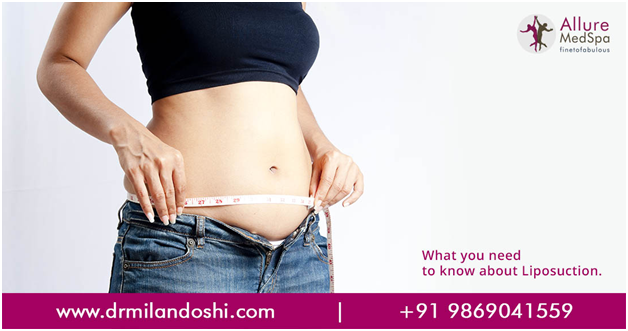 Liposuction is a boon for those who have tried and failed at losing stubborn fat. Liposuction surgery is one of the few surgeries that aim at giving you the shape that you desire. However, many people walk into the consultation without the slightest idea of what liposuction can do for them. Having an unrealistic expectation is another thing. Patients often have an idea of what surgery should do for them rather than have an idea of what it can. It is important to set the right kind of expectation and arm yourself with the correct information on what liposuction can do and cannot.
Who is a good candidate?
A good candidate must be healthy. A good candidate for liposuction has extra fat that does not respond to dieting or exercise. A good candidate for liposuction surgery is not obese or has health issues. A good candidate must also have realistic expectations.
What Liposuction can do
Liposuction can get rid of the unwanted fat accumulated over time. Liposuction can give you the perfect shape and improve the contour of your body by getting rid of the extra fat. Liposuction can be performed on various parts of your body like thighs, hips and buttocks, abdomen and waist, upper arms, back, inner knee, chest area, cheeks, chin and neck, calves and ankles.
What liposuction cannot do?
Liposuction cannot help you lose weight. Sure, you will be lighter by a few pounds, but liposuction is not a weight loss surgery. Large amount of fat can be removed from your body, but if you are looking for significant weight loss, you need a weight loss surgery not liposuction.
Prior to Your Procedure
Your cosmetic surgeon will examine you and will suggest the changes you can make in your diet and lifestyle before the surgery. Your surgeon may also ask you to stop taking certain medications. You will be asked to stop drinking and smoking for a while. You must make provisions for your recovery period depending on the kind of surgery you will be having.
Liposuction procedure
The liposuction procedure can be performed on several areas of the body at the same time and can be used in combination with other cosmetic surgery/procedures. At Allure MedSpa we use a combination of Vaser and laser to dislodge the fat. Fat is removed by first inserting a small, hollow tube (called a Cannula) through one or more tiny incisions. Incisions are usually less than one-quarter inch in length and are placed as inconspicuously as possible. The cannula is connected to a vacuum pressure unit or syringe (Liposculpture). The unwanted fat is sucked away. The procedure duration varies depending on your unique requirements and may range from just 30 minutes to a maximum of 2 hours.
After your procedure
Liposuction recovery time varies from person to person. It varies from procedure to procedure as well. Post-surgery you may go home on the same day. You may be able to return to work in just a day or two. Many patients are able to resume most of their normal activities within a few days. However, strenuous exercise might take a few near about 2 weeks. You will experience swelling and bruising which will subside a week or so. The timing of your recovery depends largely on the extent of your Liposuction in Mumbai.
Book an appointment: https://www.drmilandoshi.com/contact-us/