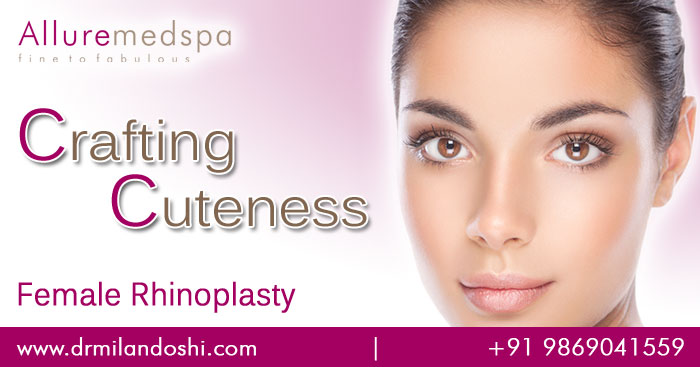 Women are particularly conscious about their looks. They are careful all the time and take special care for their skin and body. However, sometimes women want to alter their appearance, so that it is enhanced a little. Some women are not happy with the shape of their nose and want to alter it a little. Therefore, female Rhinoplasty is available.  Female Rhinoplasty is not different from male Rhinoplasty. Any type of deformity like broad nose, crooked nose, if some injury has lead to some deformity, could be corrected by female Rhinoplasty.
The operation takes couple of hours to perform and takes a few weeks of rest for it to heal completely. Local anesthesia is injected during the course of this surgery. The patient should be accompanied by a friend or family as often they complain of drowsiness and sometimes pain after the surgery. Rest should be taken for there might be some swelling and bruises after the surgery, which is nothing to be worried about and quite natural; and patients should follow doctor's instruction for it to heal properly.
The women can get long-term benefits of the Female Rhinoplasty and the procedure is simple as well as affordable. Sometimes some female experience excessive sneezing, irritation, pain, and other ailments and by undertaking the Female Rhinoplasty, they are freed from this distress. Once healing is complete, female Rhinoplasty patients can enjoy their new look as well as can be freed from any king of medical ailments that they have been tolerating all throughout their life. A nose job can repair any kind of imperfection that is visible on the face. Sometime people have to undergo some other surgeries for the face to make the features in proportion to the nose. That advice will be consulted by the doctor when you come for the counseling with the surgeon.
Allure Medspa is one of the most popular Cosmetic plastic surgery centers. It has its many branches in Mumbai itself and in a short span of time has carved a niche for itself. The clienteles include some of the best name from the world of glamour from Bollywood, Tellywood, Tollywood, and NRIs. Founder of Allure Medspa Dr. Milan Doshi has an experience of 10 plus years, and never goes wrong with the patients. Therefore, his patients enjoy high level of satisfaction and recommend his work to their friends and relatives. You are in safe hands of Dr. Milan Doshi if you come for your visit in Allure Medspa. Come and visit here once and you will get a fair idea of what we are talking about.