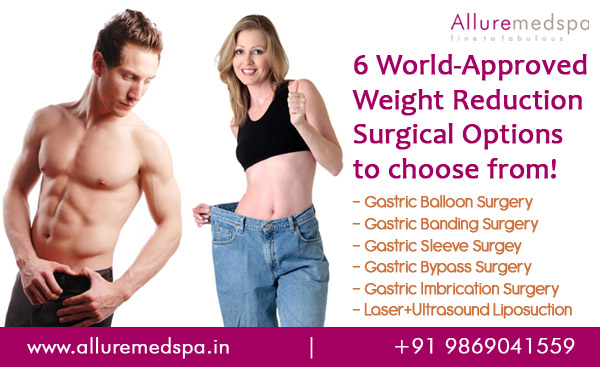 6 World-Approved Weight Reduction Surgical Options to choose from!
NOT ALL OVERWEIGHT PEOPLE ARE ALIKE.
That's why we offer 6 world-approved Weight Loss Surgery(weight reduction procedures ), to help you choose what's right for you.
We know how frustrating it is. After all that exercising and dieting you haven't lost much weight – but you've lost a lot of time, and you're on the verge of giving up.
Well, here is the good news: we offer you six internationally tried and approved weight reduction surgical options to help you become slim and stay slim, for the rest of your life.
These procedures are safe and sure. They will transform the way you look and feel about yourself while having a positive effect on your health – whether you're just marginally overweight, or excessively obese:
Laser + Ultrasound Liposuction
Under this procedure, fatty areas of the body are targeted, fat is melted using laser and ultrasound, and then it is gently drained from the body.  With Laser + Ultrasound Liposuction, you get to lose weight and also sculpt yourself an attractive new figure!
Intragastric Balloon Surgery
A soft balloon is inserted into your stomach and filled with saline solution to reduce stomach space and give you a feeling of fullness earlier than usual when you eat. This is a temporary solution (the balloon is removed after six months) that usually precedes more advanced procedures.
Laparoscopic Gastric Banding Surgery
This is ideal for patients who are morbidly obese, or those who are marginally overweight but suffer from diabetes or heart disease. A band is placed over the stomach cavity and tightened to create two smaller compartments, leaving just a small passage between them. Limited space results in less food intake and significant weight loss.
Laparoscopic Sleeve Gastrectomy Surgery
Three-fourths of the stomach is removed, leaving it in the shape of a sleeve with all its functions intact. As the stomach space is drastically reduced, food consumption drops as does an appetite. With this procedure, you lose weight faster than with banding.
Laparoscopic Roux en Y Gastric Bypass Surgery
Most of the stomach is sealed off and part of the small intestine is attached to a specially formed pouch, which reduces the body's calorie intake and, therefore, inhibits weight gain. Laparoscopes (mini cameras) inserted into the body through small incisions allow the surgeon to observe the operation on a video screen. Gastric bypass can reduce approximately 80 percent of excess body weight within a year. It is very helpful for obese people suffering from Type 2 diabetes, heart disease, or sleep disorders.
Gastric Imbrication Surgery
Imbrication surgery involves reducing the stomach size by folding it upon itself and leaving just a small area for food intake. This procedure is minimally invasive, with less pain and blood loss. As plastic sutures are used, the procedure can be reversed, unlike sleeve gastrectomy. Sometimes, imbrication is combined with a gastric band to accelerate weight loss.
Make an informed decision
We believe in being transparent with you so that you can make an informed choice and not have regrets later.
Our consultants will gain a thorough understanding of your physical condition, lifestyle, and aspirations before advising you on which surgical procedure is best for you. You will get a clear picture of the pros and cons of each procedure as well as the costs involved.
Post-operation, you will receive therapeutic care and be given dietary and lifestyle advice, to ensure that the benefits you gain last a lifetime!
The Allure Advantage
One of India's most advanced ISO 2001:2008 certified Cosmetic Surgery Centres
Total transparency in pricing
One-on-one consultation, to help you make an informed choice
Minimally invasive procedures to ensure quick recovery
Post-operative care, with boarding and lodging where applicable
A NEW YOU IS JUST A PHONE CALL AWAY!
To book a consultation for Weight Loss Surgery, Call +91 9869041559…today.
Book an appointment: https://www.drmilandoshi.com/contact-us/