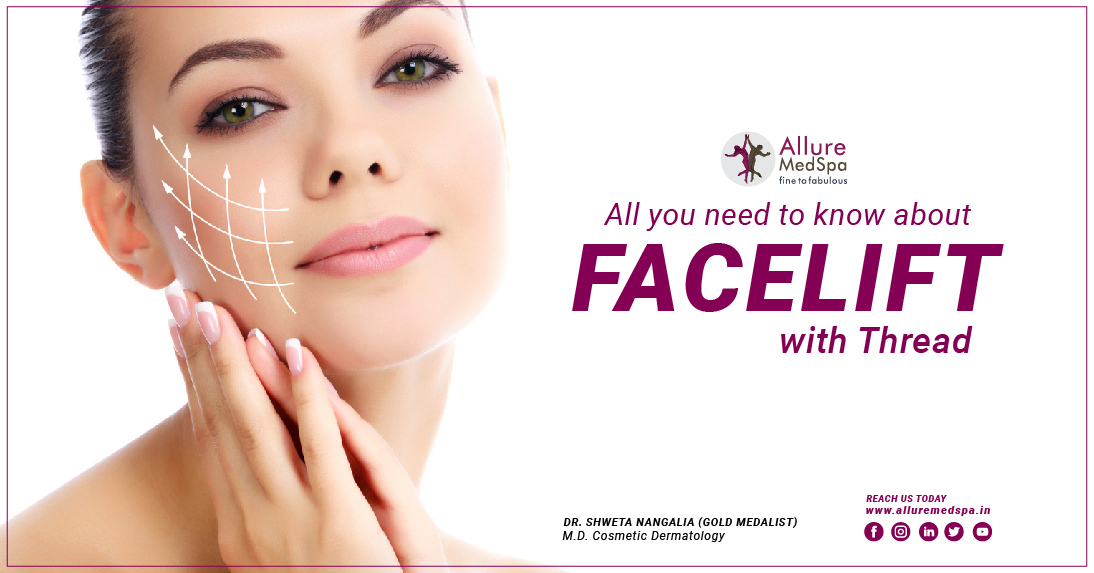 Facelift surgery can be replaced with a thread lift, which is a less invasive procedure. Thread lifts promise to tighten your skin by injecting medical-grade thread material into your face and then tightening the thread to "pull" your skin up.
Types of Threads used in Thread lift
Polydioxanone (PDO), polylactic acid (PLA), and polycaprolactone are the three main types of threads now available (PCA).
PDO threads are the most common and are constructed of a synthetic biodegradable polymer that are hydrolyzed and absorbed into the body over 6 months, causing more collagen production in a specific location.
PDO threads are divided into three categories: mono, cog, and screw.
Mono threads are smooth and do not have barbs, and they are fastened to a place on the face or scalp. They primarily tighten the skin and give a slight lift.
Cog threads have 2 barbs that latch onto the skin, providing support and lifting the sagging tissue.
Screw threads have one or two interlaced threads that wrap around the needle and restore volume to sunken skin regions. Collagen development surrounding the threads and barbs aids in volume restoration and improves skin texture and suppleness, resulting in a natural aesthetic effect.
Factors that have an effect on the desired results are 
Age of the patient
Treatment area
Technique used to position the thread
Thin/thick skin type
Tissue volume
Skin damage
How does it work?
It functions in two ways.
The first is that your doctor can tighten your skin around your forehead, neck, or chest by threading small, dissolvable sutures beneath your skin.
As the thread is drawn tight, invisible, painless "barbs" grasp onto your skin and ensure that the thread holds your underlying tissue and muscles.
Your body's healing response is triggered after a barbed thread is implanted. Your body senses a suture material and encourages collagen creation in the damaged area, even if you are not wounded by the threads under your skin. Collagen can fill up wrinkles in drooping skin and give your face a more youthful suppleness.
Where thread lift can be done?
For facial areas that "sag" or appear less tight over time, many patients opt for a thread lift. These are some of the areas:
under-eye area
jawline
brow line
cheeks and
forehead
Breasts are also lifted and tightened with thread lifts, especially after pregnancy and weight loss.
What is the procedure of thread lift?
The procedure begins with a small incision around the ear. Fine threads are then directed along the skin's pre-marked features. The barbs in the thread self-lock into the skin and help to keep it in place. Collagen begins to form around the thread that holds the skin together.
The outcome is determined by factors such as age and the degree of sagging that needs to be addressed. For up to 18 months, you should be able to observe a clear difference in your skin. The body will continue to create new collagen during this period.
After a thread lift, what to expect
After a successful thread lift, there is relatively little recovery time. While some swelling and bruising may be noticeable, you can return to work straight away if you like.
The results should be visible immediately after the threads are implanted, but you may notice more in the days and weeks after their insertion when swelling and bruising lessen.
The threads used in the operation will eventually be absorbed by the tissue beneath your skin, so the results of a thread lift aren't supposed to be permanent. The benefits of successful interventions usually persist between one and three years.
You can resume your normal routine after a thread lift. In the weeks following the operation, your physician may urge you not to massage your face aggressively and to avoid sleeping on your side.
For the first few weeks after a thread lift, the American Academy of Plastic Surgeons recommends skipping your daily moisturiser and sleeping with your head raised up to avoid turning over into the newly placed sutures.
You should also avoid saunas and high-intensity workouts for the first week or so following the thread lift.
Thread Lift Risks and Complications
Thread Lift has a solid safety record, and with us on the job, you can rest assured that there will be no mishaps. Swelling, soreness, numbness, bruising, and a small asymmetry are all possible adverse effects. However, these are minor annoyances that will fade away in a few days. Complications are rare, especially when you entrust your project to competent professionals like us.
A thread lift is a relatively novel treatment whose methodologies are still being refined. Infection, sensitivity, or numbness, PDO suture movement, mild asymmetry, scar tissue, visible sutures, or imperceptible outcomes are all possible side effects.
Facelift vs. Thread Lift
The outcomes of a thread lift will not be as striking as those of a surgical facelift. It's critical to have realistic expectations if you're thinking about investing in this surgery.
A thread lift is likewise not a long-term solution. A facelift will not entirely reverse the ageing process, but the benefits will last for many years. A thread lift's mild effects normally last around two years.
You may need dermal fillers or other procedures that take more time and money to make the results endure longer.
Facelift surgery, on the other hand, carries a substantially higher risk of complications. There isn't much you can do if you don't like the results of a facelift other than having another surgical treatment. You can simply wait for the threads to disintegrate if you don't like the result of a thread lift.
The cost of a thread lift is cheaper than that of a facelift. You can return to work immediately after having it done, and recuperation time is low.
A thread lift is a low-risk way to examine how a more permanent operation would appear if you're detecting symptoms of ageing in your jawline or under your eyes.